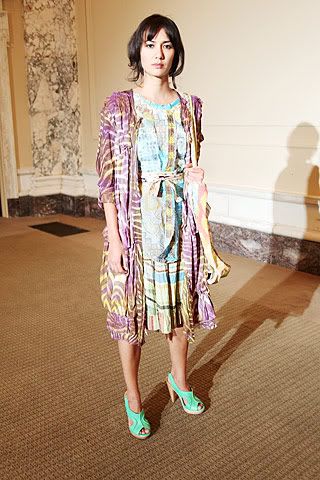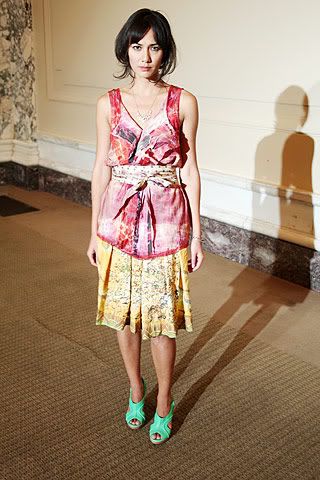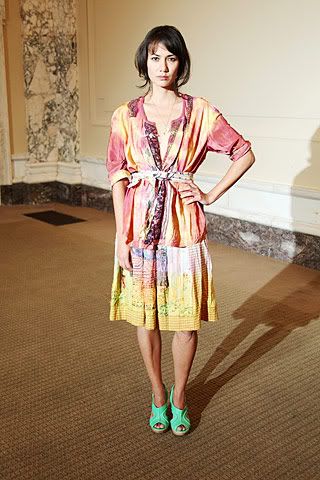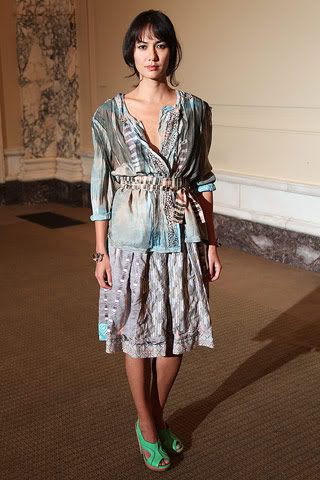 I've been so interested with Gregory Parkinson's fun styling in his Spring/Summer 2011 RTW collection.
I love how all the prints and patterns with his surprising color combos actually look cohesive! Was a bit surprised on taking an interest with this very colorful collection, it's unlike my personal style to project a lot of color, especially bright ones. I do play with prints but I always try to keep them in the same color scheme but this one seems to mysteriously draw my attention with it's fresh palette, even if there are too many prints and colors involved they all seem to work in my eyes! Must be summer talking.
Anyway what better way to take inspiration to another level then by recreating a look with your own personal touch! The whole look reminded me of how I styled an outfit for the catalog shoot for Detail bydetails! So anyway, anyone who knows me personally knows that I'm not much of a bright dresser. So here's my take on dressing with Gregory!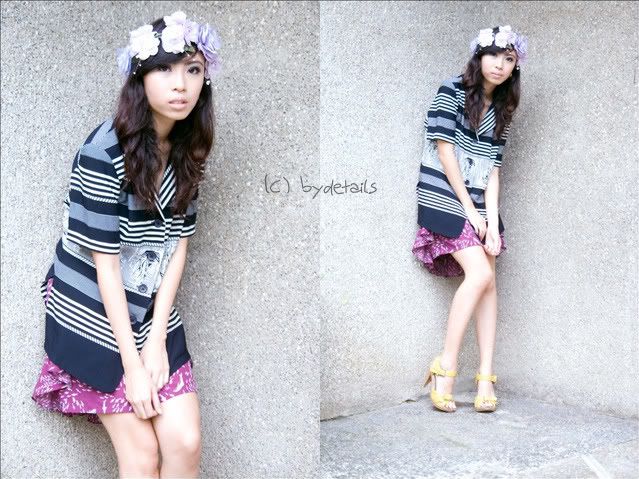 styling/model: me (Gillian Uang)
I super like the striped pattern of the top with the seed like print of the skirt together with it's cascading details. Since I don't have those sexy curves which I'd die to have in a heartbeat, I had to find a way to look normal! haha The stripes to widen my body and then the ruffles to add volume to the whole look! It's an unexpected color combo though plus the clashing/complementing patterns somehow works-- well it does to me! hahaha
styling/model: me (Gillian Uang)
If you're on the conservative side like me and still isn't comfy with wearing all the exploding colors for summer you can always make up for it with pattern. With the striped navy top from the earlier picture you can try pairing it with this cute black and white floral secretary skirt! Always remember the key to this second look is to keep everything in a low color scheme. So try sticking to neutrals with this and play around with the belt and shoes instead!
I stumbled upon this in tumblr and it instantly reminded me of the recreated outfit! I love how the blues and purples blend together but is still very distinctive to it's unique design because it had darker printed patterns on them! This must have been used in a photo shoot set or something! Not unless someone would actually want to sleep in an iron framed bed hanging from the trees! There's even a "side table" with matching lamp and the hanging ladder !!!! Too cool!
---