Top from Zara Kids.
Studied out the whole day yesterday facing magazines..
I kid!
No we did not study magazines! haha
This was what I was actually facing the whole time!
Been studying two subjects all at once just to save time.. Stress!
While doing some serious note taking.. I came across this pattern under our Rug Pattern hand outs and realized that it's the same pattern as my shirt!
Here's a closer view of the shirt pattern!
Similar right?

Since it was gloomy yestereday I decided to wear this colorful piece I got over at Zara Kids! I adore the ethnic American-Indian print that this shirt clearly portrays. The reasons why I started this blog is mainly to portray the similarities of Fashion,the Arts and Interior Design. I love how in Fashion a carpet pattern clearly becomes a statement piece and shows off a unique print on strong colors and geometric lines. It's not just some random lines that you just happen to throw in to create this effect it actually takes inspiration from carpet patterns long ago. A harmony of these elements showcase a balance of symmetry and design by not overpowering one another.
Similar to Mara Hoffman's Spring 2012 collection from the recent New York Fashion Week runway!
Here are some of my faves! <3
Okay! Maybe not all the pieces are geometric. And maybe they're not really under American Indian patterns but it i similar. Just wanted to work that in in today's post! :)

So here are some photos I got all over the net on the same patterns used in carpets, pillows and interior spaces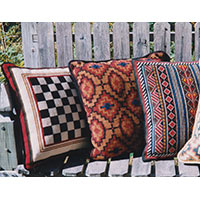 Vibrant colors on pillows! I am in love with the electric pops of color! Although some patterns in these pictures have a mixture of moroccan prints too!
Clearly these are a fun and fashionable patterns ready to spruce up interior spaces and fashion pieces at the same time! :)
Now back to studying!
Mock boards tomorrow.. wish me luck! :)